Links
If you find a broken link in this list, please report it to the webmaster.
Sites à visiter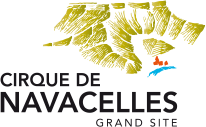 Le Grand Site du Cirque de Navacelles est au cœur du territoire des Causses et des Cévennes, inscrit sur la liste du patrimoine mondial par l'UNESCO en juin 2011, au titre des paysages culturels de l'agropastoralisme méditerranéen.

Aux pieds du Larzac et des Cévennes, niché dans les gorges de la Vis et les Causses méridionaux, plus qu'une curiosité géologique, le Cirque de Navacelles est le fruit d'une alchimie harmonieuse entre l'homme et la nature millénaire et renouvelée.

Cet espace naturel et protégé abrite un terroir riche et varié, une biodiversité exceptionnelle. Les paysages grandioses sont constellés de témoignages de l'agropastoralisme et de mégalithes.

Afin de protéger, gérer et valoriser ce site remarquable et emblématique, une Opération Grand Site a été mise en place avec les acteurs locaux portée par le Syndicat Mixte du Grand Site de Navacelles, en partenariat avec l'Etat.

L'objectif est d'obtenir le label "Grand site de France".